Four ways to meet your future classmates
And suddenly your phone is ringing...
After months of hard work towards perfecting your MBA application, all applicants are waiting for "the call".
I still remember when I got the call from France: "Congratulations you got accepted into INSEAD". There are no words to describe the excitement that I felt at that moment. It still feels like it was just yesterday. I got the call on a Wednesday at 8.20am, I was with my father, at home.
Following the call, I started getting a lot of information regarding the things I needed to do before arriving at the school. As the days passed by, I also started getting welcome emails from the alumni, and current students.
In this blog, I would like to share with you four ways I met with at least 50 people, even before the programme started.
(1)
After being admitted, I was given the contact information of other students, and I quickly searched for other Peruvians who had also been accepted into INSEAD. I was happy to identify some students from the previous batch, 18J, and one from my current batch, 18D. I sent them an email to invite them for a meet up. It was really nice to get quick responses. One thing that Peruvians like to do is eat, and of course, we organised a lunch meet up. Adriana and Felipe, both from the 18J intake, shared their experience of their journeys so far, while Nanoi and I, both 18Ds, were just starting.  
(2)
Another thing that happened almost instantly was the creation of different social media groups on WhatsApp, Facebook, etc. No one can deny that social media isn't a powerful tool to connect people. Through these groups, I virtually connected with my future classmates. It was a platform to share information on different topics. One of the main topics was travelling, and after getting admitted into the programme, some students leave their jobs a few months before to travel around the world. Some even came to Peru, so we had the pleasure to host Boris Spirov, from Bulgaria, and Vivian Zhang, from the US. We did our best to show them our culture. They tried some typical Peruvian food, visited some main places in Lima, and even went other cities in the country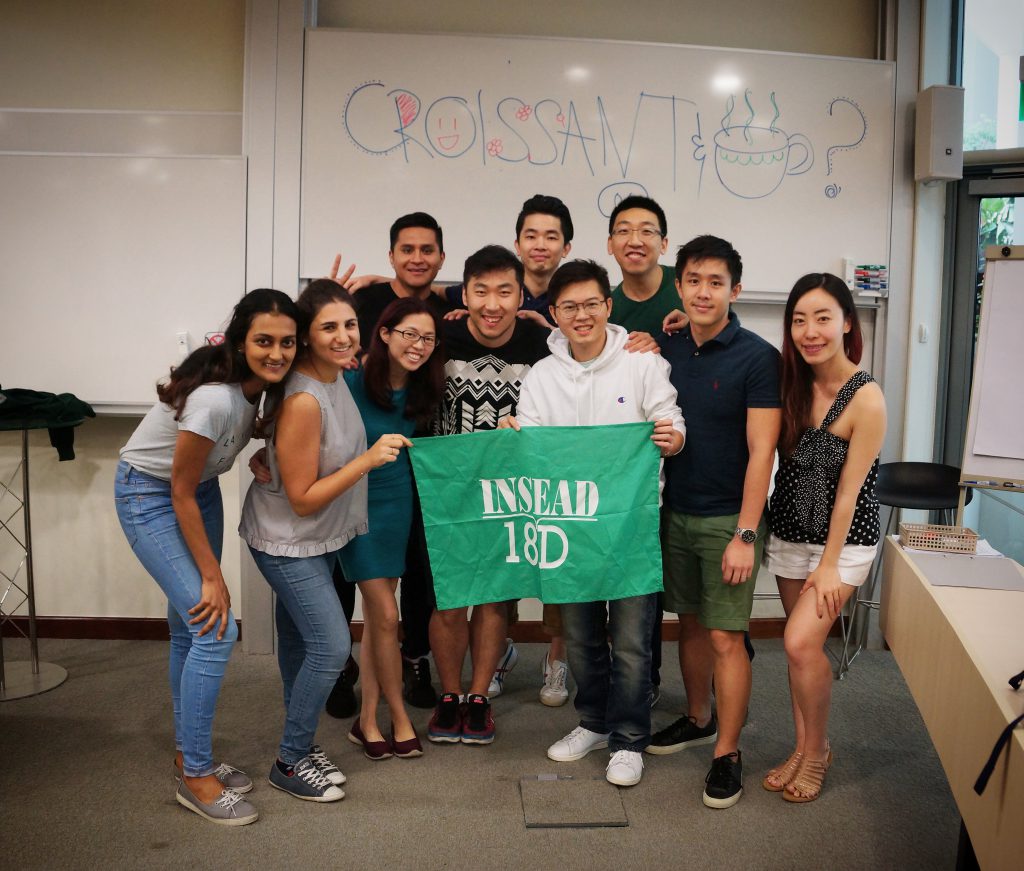 (3)
It was November, and for me, it meant that I had to leave my country and move to Singapore to start this amazing journey at INSEAD. I came a few weeks earlier because I decided to attend the Intensive French Course to validate my 3rd language, which is a requirement to graduate from the school. During this language programme, I met another 20 new classmates from different places. I spent 3 weeks with them, and during this time, we shared lunches and dinners, celebrated birthdays, and did countless trips around the city.  
(4)
After finishing the language course, I attended the Business Foundation Programme, which is basically an introduction training in business subjects.  Before applying to INSEAD, I was been told about the great diversity in the school, in which you can meet people from different countries, and it was during this one-week programme that I experienced this diversity.
There were 25 people in the programme, and among this group there were twenty-one nationalities in the classroom; now I can say that in INSEAD one will literally meet people from all over the world.
Having such a diverse group made our class discussions much more interesting. It was interesting to see how the connections started building up as the days went on. It was an intense week: classes from 8:30am to 3pm and assignments from 3pm to 9pm. By the end of the programme, we all got well connected.
And that's just the tip of the iceberg when it comes to connecting with future classmates.... even before you begin the programme.