The INSEAD Global Executive MBA (GEMBA) Class of 2024 started their journey in 2022 on our three campuses in Asia, the Middle East and Europe.
Each GEMBA class has an unparalleled diversity of nationalities and business backgrounds, enabling participants to learn from each other and build a close-knit yet globally distributed network.
Another unique feature is the Leadership Development Programme (LDP) which includes a programme-long schedule of group coaching, 360-degree assessments and team activities, designed to develop an authentic leadership style, empowering graduates to accelerate their career progress even further. 
Find out more about our latest intake, and discover some participant profiles from the Class of 2024.
---
Meet the Class - GEMBA'24 Asia Section
"Pursuing an EMBA has added a new dimension to my professional profile and expertise."
"The stage has been set, the story is unfolding, the best is yet to come."
"INSEAD is not just a business school, it is the place where strong and good leaders with integrity and self-awareness are developed."
---
Meet the Class - GEMBA'24 Middle East Section
"I have a nuanced view of the world which I have found to be compatible with INSEAD's founding values."
"The INSEAD network provides immediate benefits."
"The Executive MBA provides you an opportunity for self-introspection but also discovery."
---
Meet the Class - GEMBA'24 Europe section
"My cohort is incredible, I am in awe of each and every one of my classmates."
"The learnings are so hands-on that I am able to actively apply them the minute I get back to work, which is exactly what I came for."
"You get the chance to rewire your old concepts and build new ones by stretching your boundaries at the same time."
---
The INSEAD GEMBA Class of 2024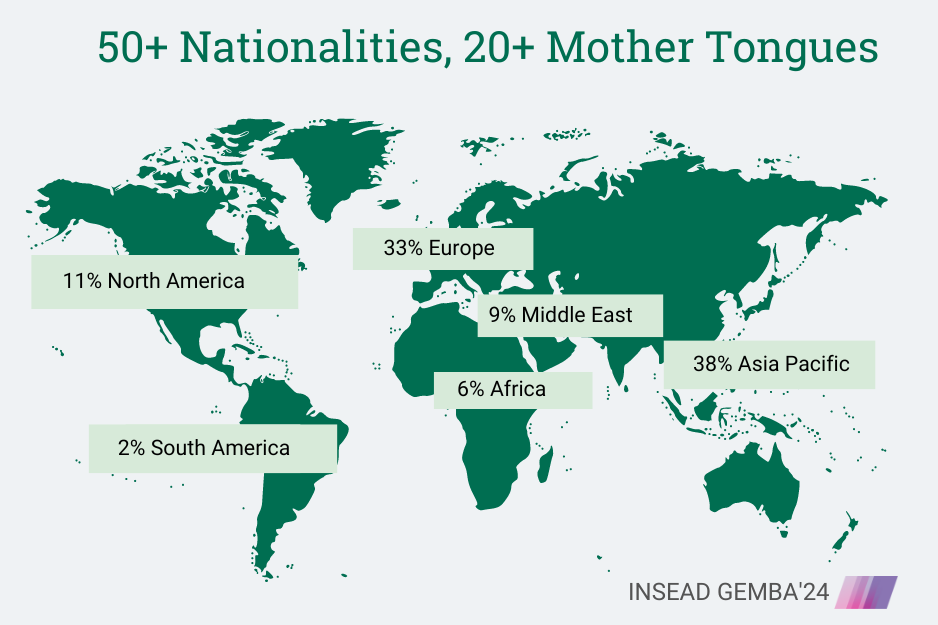 Explore more participant profiles from the INSEAD Global Executive MBA Class of 2024 or learn more about the programme features, admissions process and financing on the main INSEAD Global Executive MBA website.